How Do You Know When Your Child is Ready for Speech Therapy Services?
by Ashely Sellers, Speech Language Pathologist, M.Ed., CCC-SLP on 10/27/17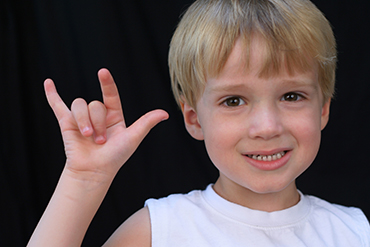 This question is not referring to eligibility for speech therapy services based on your child being tested or meeting specific qualification standards for services. Specifically, this question pertains to considering if your family's daily routine/schedule, financial responsibilities, and expectations regarding your child's speech and language development allow for the possibility of your child receiving services consistently over a significant amount of time.
As an active speech language pathologist with a moderate size caseload, I don't feel that this question is presented to parents enough. Scheduling your child to have speech therapy services is not like scheduling a doctor's visit. Doctor visits are normally scheduled once or twice a year and allow for parents to schedule ahead to take time off work and to take the children out of school, if necessary. However, speech therapy, is a committed service that requires regular weekly or monthly visits over a course of 3-6 months. This can prove to be very challenging and overwhelming at times for parents, especially if they have not fully considered how to fit speech therapy into their family's daily routine/schedule.
Furthermore, speech therapy is a committed service that can have a significant impact on one's finances. It is important to consider if your insurance plan will cover speech therapy services, if a co-payment will be due at the time of service, and if your insurance has a deductible that requires you to cover costs out of pocket that the insurance plan won't cover. Also, what if you don't have insurance or your insurance plan won't cover speech therapy services? You must consider if you can afford the private pay prices offered by the speech language pathologist you use and if you can't afford their prices, what other options are available to meet your budget.
Lastly, speech therapy is a process. Often, the word "therapy" in speech therapy is overlooked. Therapy requires taking an old behavior and modifying it or acquiring a new one over time. For everyone involved (speech therapist, parents, patient), speech therapy requires patience and dedication to see progress happen steadily over a significant amount of time. For this reason, parents need to know what their expectations are for their child's speech and language skills at the start of speech therapy and discuss them regularly with their child's speech therapist. It is also important for parents to decide how involved they want to be in their child's speech therapy sessions. Will you sit on sessions to observe and assist, or will you sit outside sessions and ask question regarding the session after is it over? Discipline plays a big role in how effective speech therapy can be for your child. How much of your child's behavior will you allow the speech therapist to control? What boundaries will you set with the speech therapist with redirecting your child or correcting inappropriate behaviors.
In conclusion, I dread the part of my job that requires me to charge parents fees for "NO Shows" or to terminate services with a family due to lack of attendance, inability to pay, or inappropriate behaviors. My goal as a speech language pathologist, is to see my families make progress. I have stayed up late nights contemplating what I could do to get families to have better attendance, which is why I am providing you with this guide. For more detailed information regarding this matter, please check out my YouTube Video: https://youtu.be/-mLsc5Ag7c0
Please comment on my blog and subscribe to my YouTube Channel: SpeechLanguageBeyond